2007.12.13 18:20:10 (*.143.178.208)
13933
56 / 0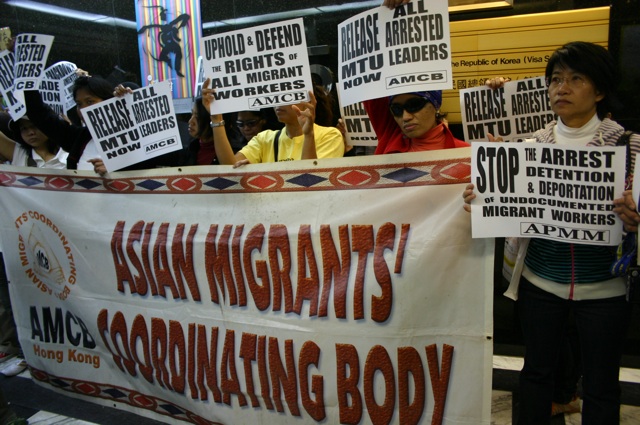 홍콩 한국 대사관 앞 항의 집회- Asian Migrants Coordinating Body 비롯한 여러 이주민 단체들이 12월7일에 대사관 앞에서 집회를 했습니다.
Note: Today at 1:00 PM (HK Time), AMCB led a protest action right outside the Consulate General of South Korea in Hong Kong calling for the immediate release of the arrested MTU leadership and to put a stop on trade union repression in Korea. The protest was participated by more than 30 migrant workers from Indonesia, Philippines and Thailand. Also present were representatives of the Filipino Migrant Workers' Union (FMWU), Asia Pacific Mission for Migrants (APMM), the Hong Kong Confederation of Trade Unions (HKCTU) and the Asia Monitor Resource Centre (AMRC). An appeal letter (see below) was also submitted to the consulate. Attached are some pictures of the protest for your reference.
December 7, 2007
Mr. Jung Seong-Jin
Minister of Justice
Seoul, South Korea
Fax: 82-2-503-3532 or 82-2-500-9128
Dear Minister Jung,
The Asian Migrants' Coordinating Body (AMCB) is gravely concerned at the November 27 arrests of Migrants Trade Union President Kajiman, Vice President Raju and General Secretary Masum. The MTU is a KCTU affiliate of the Seoul-Gyeonggi-Incheon Migrants' Trade Union.
AMCB is a migrant workers alliance of five nationalities. It leads the migrants movement in Hong Kong and is composed of the following: Association of Sri Lankans (ASL); Assosiasi Tenaga Kerja Indonesia (ATKI) (Association of Indonesian Migrant Workers); Far-East Overseas Nepalese Association (FEONA-HK); Friends of Thai (FOT); Thai Regional Alliance (TRA); and United Filipinos in Hong Kong (UNIFIL-MIGRANTE-HK).
It is clear that the arrests of the three are part of a crackdown meant to silence the MTU whose members are mostly undocumented workers. The MTU has been steadfast in its struggle against the anti-human rights crackdown being carried out against undocumented migrants in South Korea. Since August of this year, another 20 MTU members and officers have also been arrested.
The number of undocumented migrants is growing despite the introduction of the Employment Permit System (EPS) and the dissolution of the Trainee System this year.
The arrests come at the same time that the South Korean Immigration Control Office is proposing to put forth a revised immigration law. This will make it possible to carry out the crackdown continuously with complete disregard for the most basic procedures to protect human rights.
The arrests of the MTU leadership is a gross violation of human rights and a horrendous act of labor repression which targets not only migrant workers and MTU but also the KCTU, the 15 million workers it represents and the international labor community. As such, we will not remain silent.
We therefore strongly call on you to meet the following demands:
- Immediately release President Kajiman, Vice President Raju and General Secretary Masum;
- Stop the targeted crackdown and labor repression against MTU; and
- Stop the crackdown and deportation of undocumented migrant workers!
Signed:
Eman C. Villanueva
Coordinator, AMCB
Secretary General, UNIFIL-MIGRANTE-HK