2006.05.11 15:48:01 (기록하지 않음)
6176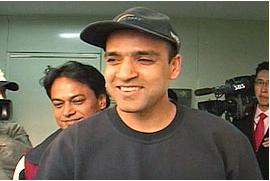 mms://mwtv.or.kr/VOD/english1.wmv
Anwar Hussein, the president of the Migrant Worker Trade Union was released from custody from an immigration detention center under 'temporary leave' on April 25 due to failing health.
Anwar was arrested on May 14th during a targeted crackdown on MTU, after which he was held at the Cheongju immigration detention center.
The MTU filed a suit with the Human Rights Commission to challenge the use of violence during his arrest and custody, as well as the failure to follow proper legal procedures at the time of his arrest.
By law, Hussein should have been released during the time of his hearing, but was detained unLAWfully for 340 days.
MTU along with other human rights groups have expressed the hope that the Immigration Bureau will work to bring a halt to the inhumane treatment of migrant workers.
For the time being, Anwar Hussein is focusing on medical treatments and restoring his health.