2006.04.28 13:34:03 (기록하지 않음)
7570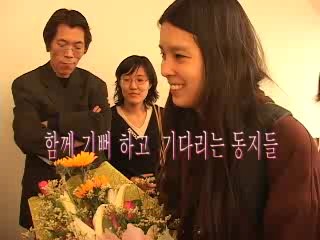 mms://mwtv.or.kr/VOD/anowar FINAL1-1.wmv
April 25, 2006- Seoul, Korea _Devon_
Anwar Hossain, President of the Migrants' Trade Union, was released from immigration detention today at about 5:45 pm after spending the last 11 months in Cheonju Detention Center. The Korean government cited his deteriorating health and two pending court cases as reasons for his release. Anwar was released on an open bond- the MTU paid the Korean government about $500 US Dollars for Anwar's release in exchange for an open-ended visa so that Anwar can receive medical treatment and recover from his time spent in detention. There is no time limit on his stay in Korea.
Anwar was greeted by more than 200 supporters and migrant workers upon his release. In a statement he gave to the Korean press, he said that he will keep fighting until every last migrant is free from detention and can have the freedom that he has today. Tomorrow Anwar will be admitted to the hospital to receive much needed medical treatment for injuries sustained during his arrest, as well as health issues that he suffered while in jail.
Anwar's release was unexpected and the news came after a week in which 4 migrant workers in Korea died trying to escape immigration crackdowns and another died while on the job. Pressure, within Korea and from abroad, has been intensifying against the Korean government to release Anwar and stop the violent crackdown on migrant workers. The MTU would like to thank everyone who has sent letters on Anwar's behalf, attended protests and rallies and helped in innumerable other ways. Anwar's release would not have been possible without their help.
The MTU is calling on all workers in Korea and around the world to unite so that all may be free from oppression and discrimination. We at the Migrants' Trade Union firmly believe that an injustice to one is an injustice to all and we will continue to fight together to free everyone from oppression.