2011.03.03 16:00:45 (*.129.189.142)
3087
UPDATE: Today, we learned that Michel Catuira won in her court case against the Immigration Service of South Korea. This ruling in effect will prevent the immigration from forcibly deporting Michel. Long Live International Solidarity!

Note: Today, the Indonesian Migrant Workers' Union (IMWU) and the Filipino Migrant Workers' Union (FMWU), both affiliated with the Hong Kong Confederation of Trade Unions (HKCTU), led a protest action at the South Korean consulate to condemn the cancellation of MTU president Michel Catuira's visa and her impending deportation. IMWU and FMWU in a joint statement endorsed by 41 other groups, unions and NGOs, demanded that Michel's rights be respected, her visa reinstated and to stop the government's crackdown on migrant workers. Photos are attached for your reference. Please circulate.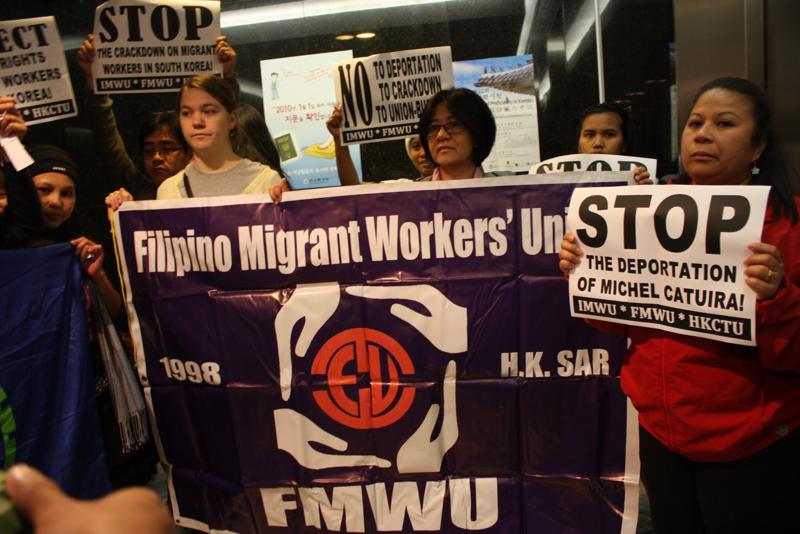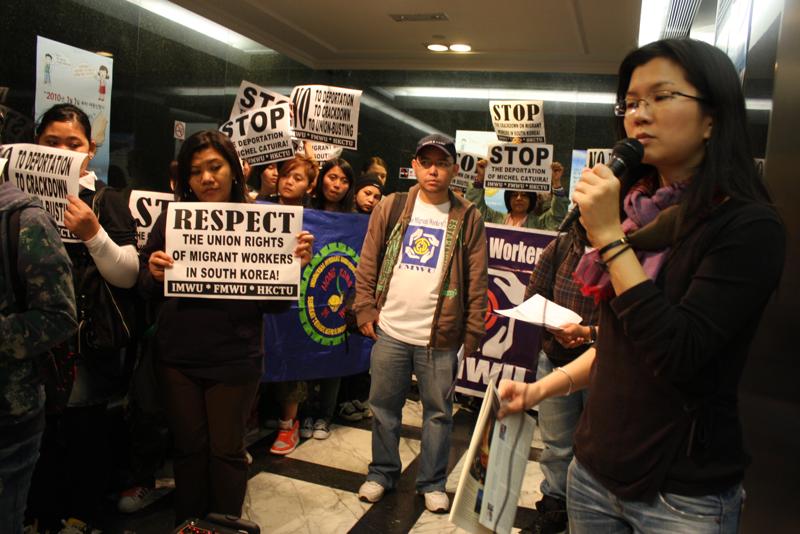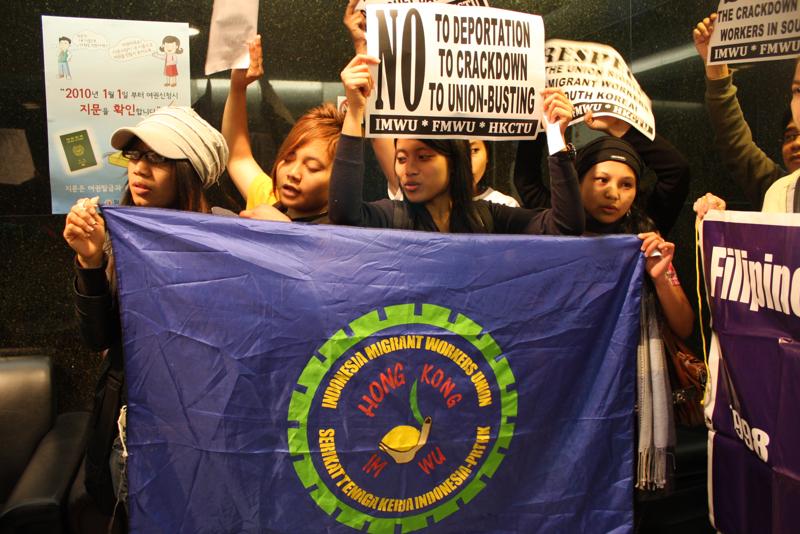 DEFEND MIGRANT WORKERS' RIGHT TO UNIONIZE!
STOP THE FORCIBLE DEPORTATION OF MICHEL CATUIRA FROM KOREA!
STOP THE CRACKDOWN ON MIGRANT WORKERS IN KOREA!
A joint statement by the Indonesian Migrant Workers' Union (IMWU) and
the Filipino Migrant Workers' Union (FMWU) in Hong Kong.
We, migrant workers' unions in Hong Kong, vehemently denounce the cancelation of Michel Catuira's visa and her impending deportation by the South Korean government. We demand that her visa be reinstated and that she be allowed to stay and work and to freely exercise her freedom of association.
The cancellation of MTU President Catuira's visa is the latest in the South Korean government's systematic attack against migrant workers' rights to be organized and to be unionized. It may be recalled that since 2007, MTU leaders have been targeted for surveillance, harassment and deportation, with the government exploiting their legal vulnerabilities despite strong local and international support for the MTU. The forcible deportation of MTU President Kajiman, Vice President Raju and General Secretary Masum in 2007 is no different from what Michel Catuira is experiencing now.
Even the International Labor Organization (ILO) has considered the arrest and deportation of MTU officers as acts of labor repression and has suggested that they be stopped immediately. The ILO has also affirmed the right of all migrant workers, regardless of visa status, to freedom of association and recommended that the South Korean government recognize MTU's legal union status.
However, the South Korean government has time and again proven its anti-worker character. Not only is it known for attacking the rights of migrant workers, it is also well known in violating the rights of South Korean workers. Its adherence of neoliberal policies of globalization has led to violent suppression of workers' protest against wage reductions, loss of benefits and unemployment brought about by privatization of public utilities and enterprises, liberalization of the economy and deregulation of many key industries.
As migrants and as workers, we experience the same hardships, discrimination and attacks to our wage, livelihood and rights. And it is only through our unity - our unions and organizations - that we can truly protect and advance our cause. In this spirit, we extend our solidarity and strongest support to our fellow migrant worker and fellow unionist Michel Catuira.
We again reiterate our demand to the South Korean government to once and for all respect the rights of migrant workers in Korea and to immediately reinstate Michel Catuira's visa and stop her impending deportation. Allow her to stay and work in Korea and exercise her rightful union activities.
We also call on all grassroots organizations, NGOs and rights advocates to support the struggle of Michel Catuira to remain in Korea and continue her union activities. For her struggle is our struggle, her victory is our victory.
Defend the Rights of Michel Catuira!
Stop Michel's Deportation!
Stop the Crackdown on Migrant Workers in Korea!
2 March 2011
Hong Kong SAR
Endorsed by:
Abra Tinguian Ilocano Society, Hong Kong (ATIS)

Alliance of Health Workers, Philippines

Asia Monitor Resource Center (AMRC)

Asia Pacific Mission for Migrants (APMM)

Association of Indonesian Migrant Workers in Hong Kong (ATKI-HK)

Association of Indonesian Migrant Workers in Macau (ATKI-Macau)

BAYAN Hong Kong

BAYAN USA

Bangladeshi Ovibasi Mohila Sramik Association (

BOMSA)

Cordillera Alliance in Hong Kong (CORALL-HK)

Centre Communautaire des Femmes Sud-Asiatique, Quebec

Center for Japanese-Filipino Families (CJFF)

Federation of Independent Trade Unions (Gabungan Serikat Buruh Independen – GSBI, Indonesia)

Filipina Circle for Advancement and Progress (FICAP), Japan

Filipino Migrant Center (FMC), Japan

GABRIELA Hong Kong

GABRIELA Japan

GABRIELA-Nagoya Chapter

Hong Kong Confederation of Trade Unions (HKCTU)

IMA Research Foundation, Bangladesh

Indonesian Migrant Workers' Union – Macau (IMWU Macau)

KAFIN Migrant Center, Japan

KAFIN-Migrante Saitama, Japan

League of Filipino Seniors (LFS), Japan

MIGRANTE Australia

MIGRANTE BC, Canada

MIGRANTE Denmark

MIGRANTE Europe

MIGRANTE International

MIGRANTE Japan

MIGRANTE-Nagoya Chapter

Mission for Migrant Workers (MFMW)

Philippine Society in Japan (PSJ)

PINAY Quebec

Pinoy in Austrian Society for Integrity, Reforms and Social Information (Pinas First)

Teresa Gutierrez, May 1st Coalition for Worker and Immigrant Rights, USA

TransAsia Sisters Association, Taiwan (TASAT)

Tenaganita, Malaysia

Thai Migrant Workers' Union, Hong Kong (TMWA)

United Filipinos in Hong Kong (UNIFIL-MIGRANTE-HK)

United Pangasinan in Hong Kong (UPHK)